Name of Regional Office: Chennai
Jurisdiction: Tamil Nadu and Puducherry
Address: Module No. 35, Garment Complex, 2nd Floor, Industrial Estate, Guindy, Chennai – 600 032
Name of the Regional Director: Smt. Tanisha Lal
Contact details: Ph: 044-2250 0034 / 2250 0824, Fax: 044-2250 0034, (CRM: 9311765338) E-mail: ro.chennai@ncdc.in
Google Map link (Route map of Directorate):
https://goo.gl/maps/s4RTjgaCiPWDAurt7
Tamil Nadu
Cooperative Societies in Tamil Nadu: (As on 31.03.2023):
S.No.
Functional Registrars
Category of Societies
Number of Societies
1
Registrar of Cooperative Societies
TNSCB, State level Cooperative Federations, PACCS, PCARDBs, APCMS, Cooperative Union, DCCBs, USBs, ECS, FSCS, LAMPS , Consumer Stores, Printing Press, Labour Cooperatives, FPO Cooperatives etc.
7614
2
Commissioners of Handlooms and Textiles
COOPTEX, Handloom, Weavers, Spinning, Textile etc.
1384
3
Commissioner of Sugar
Sugar Federation and Cooperative Sugar Mills
17
4
Director of Industries and Commerce
Industrial Cooperatives INDCOSERVE, SAGOSERVE, Tea, Coir etc.
353
5
Commissioner of Fisheries
TAFCOFED, Fishermen Cooperative Societies
1387
6
Commissioner of Milk Production and Dairy Development
AAVIN, Milk Union, Milk Societies.
8850
7
Director of Sericulture
Sericulture Cooperatives
26
8
Director of Animal Husbandry
Cattle and Livestock Cooperatives
70
9
Director of Social Welfare/ Director, Integrated Child Dev. Services Project
Women Tailoring Cooperatives
169
10
Chief Executive Officer, Khadi and Village Industries Board.
Village Industries
654
11
Director of Rural Development
Rural Development
45
12
Director of Agriculture
Horticulture, Agro. Engg. & Oilseeds
526
13
CEO, TN Palm Products and Dev. Board
Palmery Cooperatives
720
14
The Registrar of Cooperative Societies (Housing)
Housing Federation, Housing Cooperative Societies.
1035
15
Central Registrar of Cooperative societies, Department of Agri., Cooperation and Farmers Welfare
Multi State Cooperative Societies (MSCS)
90
Total
22940
Implementation of NCDC Programmes :
Financial support by NCDC:
Up to 31.03.2023, NCDC has provided a total assistance of Rs. 3800.71 crore benefiting various Cooperative projects/units as below:
Cumulative Disbursement as on 31 March, 2023
S.No.
Scheme/Activity
Cumulative Disbursements as on
31.03.2021 (Rs. in crore)
1
Marketing & Inputs
199.34
2
Sugar
478.94
3
Textile
160.67
4
Agro Processing: oil seeds, ginning & Pressing, F&V
14.33
5
Weaker Sections : Dairy Fishery, Poultry, Handlooms, etc.
80.79
6
Consumer
18.37
7
Storage& Cold Chain
21.24
8
Integrated Cooperative Development Project (ICDP)
744.82
9
Industrial, Credit and Service Cooperatives, Computerisation
2077.09
10
Promotional and Development
1.72
11
Central Sector Scheme (FPO, FFPO and PMMSY)
3.40
Total
3800.71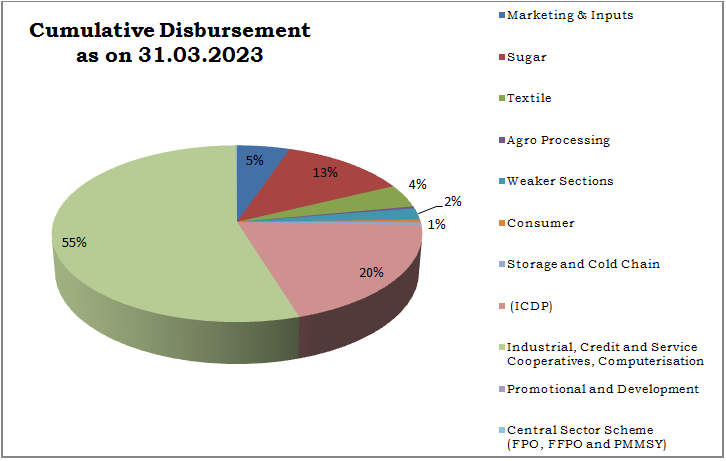 Sanctions and Release details of last 5 years (Rs. in crore):
| | | |
| --- | --- | --- |
| Year | Sanction | Release |
| 2018-19 | 4.19 | 79.80 |
| 2019-20 | 0.11 | 21.24 |
| 2020-21 | 6.50 | 21.58 |
| 2021-22 | 263.93 | 50.75 |
| 2022-23 | 20.75 | 30.49 |
Highlights of the programmes assisted and other relevant achievements/ issues during the last 5 years (2018-19 to 2022-23):
Spinning Mills: NCDC has sanctioned an amount of 3.60 crore at a block cost of Rs. 4.00 crore to Tamil Nadu Cooperative Textile Processing Mills Ltd. for purchase and installation of Cheese dyeing machinery during 2018-19.

Sugar: NCDC has provided Rs. 461.88 crore to the Govt. of Tamil Nadu for the development of Cooperative Sugar Mills for Modernization and Expansion, by-products units, working capital etc. NCDC has released an amount of Rs.17.06 crore as working capital loan to the State Govt. during 2017-18 to meet the part working capital requirement of the Chengalrayan and Vellore Coop. Sugar Mills in the state.

Storage: An amount of Rs.19.37 crore have been provided for construction of 4759 rural and 410 marketing godowns with capacity of 982728 MTs and 2 cold storages with a capacity of 3750 tons in the state.

Fisheries: Regional Office, Chennai has sanctioned Rs. 50.00 lakh and disbursed Rs. 25.00 lakh to Tamil Nadu Dr. J. Jayalalitha Fisheries University (TNJFU), Nagapattinam for startup project on development of Seaweed Farming Opportunities in the Ramanathapuram district. The Office has also sanctioned Rs. 50.00 lakh and disbursed Rs. 25.00 lakh to Gandhigram Rural Institute, Gandhigram, Tamil Nadu for startup project on Development of Seaweed Farming opportunities under PMMSY for production of Seaweed Based Plant Growth Promoters, Biopesticides and Edible Coating Blends for Fruit/Vegetable Preservation for the livelihood development of fisher folk. The Office has also sanctioned an amount of Rs. 2.08 lakh to install aquarium in the premises of TNJFU.

Dairy Cooperatives: Further, NCDC has sanctioned Rs. 245.95 crore to AAVIN under Dairy Infrastructure Development Fund (DIDF). In 2022-23, Rs. 9.33 crore has been disbursed out of Rs. 37.33 crore to Thoothukudi District Cooperative Milk Producers Union Ltd. for setting up of New Milk Processing Plant of 50 TLPD and product manufacturing facilities.

Service Sector: NCDC has so far provided assistance as working capital loan of Rs.1950.00 crore to Tamil Nadu State Apex Cooperative bank (TNSC Bank) and Rs.120.00 crore to Tamil Nadu Cooperative State Agriculture and rural Development bank ltd., for jewel loan operations through their affiliated banks.
Further, NCDC has sanctioned and released Rs. 16.94 crore under Ayushman Sahakar to Indian Medical Practitioners Cooperative Pharmacy and Store Ltd (IMPCOPS) for expansion of Manufacturing unit and existing hospital at Chennai, Tamil Nadu and Manufacturing unit at Tadepalli, Andhra Pradesh. Further, Rs. 7.00 crore has also been sanctioned to IMPCOPS as working capital under Ayushman Sahakar Scheme.

Integrated Cooperative Development Project: Out of 37 districts (erstwhile 32 districts) in Tamil Nadu, ICDPs has been completed in all 37 districts. In the FY 2022-23, four ICDP projects namely namely Namakkal, Kanyakumari and Tiruvallur have been completed on 31.12.2022 and ICDP Chennai has been completed on 31.03.2023.
Initiatives for development of Aspirational Districts (identified by NITI Aayog) through Cooperatives:
Virudhnagar & Ramanathapuram districts in Tamil Nadu have been identified by NITI Aayog as Aspirational Districts. In these 2 districts Integrated Cooperative Development Projects has already been implemented with block cost of Rs. 862.51 lakh and Rs. 655.29 lakh respectively. Further, during the year 2023-24, three FPOs to be formed in Virudhunagar District and 1 FFPO to be formed in Ramanathapuram district under Central Sector Scheme.
Development Opportunities in the State/UT through Cooperatives:
Implementation of ICDP phase – II in 9 districts viz. Cuddalore, Dharmapuri, Kancheepuram, Krishnagiri, Ramanathapuram, Thiruvannamalai, Tiruppur, Villupuram and Virudhungar.

Implementation of DIDF projects in Tamil Nadu Cooperative Milk Producers Federation Ltd., Theni District Cooperative Milk Producers Union Ltd. and Thoothukudi District Cooperative Milk Producers Union Ltd

Assisting to Sugar Cooperative Mills for setting up of ethanol plants.

Solar Power Projects in Cooperative Spinning Mills.

Promoting Agriculture Grading, Packing, Processing and other value addition activities.

Assistance to Fisheries Cooperative Societies under FIDF.
Success Stories:
IMPCOPS- A Pioneer Cooperative in AYUSH Medicines

Indian Medical Practitioners Cooperative Pharmacy & Stores Ltd. shortly known as "IMPCOPS" is a well-established and pioneer in the Ayush medicines (Siddha/ Ayurveda/ Unani) manufacturing Industries since 1944 with only 400 members of Indian Medical Practitioners under Cooperative Society in Tamil Nadu only and now they operate as Multi State Cooperative Society in entire southern region viz. Tamil Nadu, Kerala, Andhra Pradesh, Telangana, Karnataka & Puducherry with 17,660 registered Medical Practitioners.

It is one and only unique Organization working under Cooperative Sector in entire Asia and engaged in manufacturing of medicines of all 3 traditional Indian Systems namely Siddha, Ayurveda & Unani under one roof. This is the first and only pharmaceutical organization in the whole world to be set up under Co-operative sector.

The major activity of this society is manufacturing of medicines and selling through their Outlets / Franchisees. They supply medicines to CGHS Dispensaries (GOI), Dispensaries attached to various Municipalities, Corporations, Panchayat Unions & Voluntary Health bodies & Cooperatives. This society also operates a Hospital and therapy center with Outpatient department and Inpatient department with capacity of 10 beds offering variety of treatments in all three sections of medicine in Chennai.

NCDC has assisted IMPCOPS in 2021, by way of term loan of Rs.16.9147 crore towards up gradation and expansion of manufacturing units in Chennai, Tamil Nadu and a new manufacturing plant in Tadepalli, Andhra Pradesh under Ayushman Sahakar Scheme through direct funding. Further, NCDC has sanctioned Rs. 7.00 crore as working capital in 2022 under Ayushman Sahakar.