Name of Regional Directorate: Dehradun
Jurisdiction: Uttarakhand
Address:B-2, Friends Enclave, Shahnagar, Gorakhpur Post Office, Defence Colony, Dehradun-248001
Name of Regional Director: Shri. Amit Kumar Nigam
Contact details: Ph: 0135-2665945, Fax: 0135-2665945,
Email-id: ro.dehradun@ncdc.in
Cooperatives in Uttarakhand:
| S.No. | Category of Societies | Number of Societies |
| --- | --- | --- |
| 1 | State Level Cooperative Organizations (representing Marketing, Dairy Handloom Weavers, Fishermen, Sericulture, Oilseed, Sheep & Goat, Credit and Banking) | 12 |
| 2 | District Central Co-operative Banks | 10 |
| 3 | Primary Credit Cooperative Societies | 670 |
| 4 | Dairy Cooperatives (Distt. Level Fed.) | 13 |
| 5 | Dairy Primary Societies | 2677 |
| 6 | Marketing Cooperatives | 34 |
| 7 | Cooperative Sugar Mills | 4 |
| 8 | Textile Cooperative (Resham) | 93 |
| 9 | Service Sector Cooperative(Transportation) | 34 |
| 10 | Other type of societies | 2432 |
| | Total | 5979 |
Implementation of NCDC Programmes :
Financial support by NCDC:
Up to 31.03.2022, NCDC has provided total disbursements of Rs.429.45 crore benefitting various cooperative projects/units as follows:
S.No.
Scheme/Activity
Cumulative Disbursements as on
31-03-2022 (Rs. in crore)
1
Marketing & Inputs
90.48
2
Sugar
28.38
3
Textile
4
Processing
11.80
5
Weaker Sections
178.40
6
Consumer
0.55
7
Storage
5.60
8
Integrated Cooperative Development Project
88.82
9
Promotion & Development
10
Service & Agri. Credit
25.42
Total
429.45
Sector wise cumulative disbursements
Cumulative disbursements as on 31.03.2022 (Rs in crore)

Achievements during last 5 years (as on 31.03.2022):
Year
Assistance (Rs. in Crore)
Sanctions
Disbursement
Number
Amount
2017-18
1
2.40
3.32
2018-19
11
3013.76
106.07
2019-20
12.34
2020-21
17.22
2021-22
1
0.07
80.36
Highlights of the programmes assisted and other relevant achievements during the last 5 years(2017-18 to 2021-22):
As a result of implementation of Rajya Sahakari Samekit Vikas Pariyojana at a mega outlay of Rs 3340 Cr cooperative movement has got a thrust in the State at all levels i.e. from Primary to Apex Federation.
All the 13 districts have been covered under ICDP.
All 10 District Central Coop. Banks have been provided computerisation/CBS assistance.
Established contact with 824 Primaries in different sectors including MPACS, Dairy, Fisheries, Sheep & Goat, organic farming for nurturing under SAHAKAR-22, where 252 Primaries were contacted during FY 2021-22 alone.
During 2021-22, RTC Dehradun has conducted 5 online training programmes for the co-operators/ representatives of Primaries.
One training programme was conducted for women directors.
An internship of 2 interns has been started under Sahakar Mitra Scheme of NCDC.
One State Level and three district level Training cum Awareness Programmes on PMMSY were successfully conducted in FY 2021-22.
Cooperative Excellence & Merit Awards-2021 was successfully organized in the presence of Secretary (Coop.) where 7 societies were awarded.
New Initiatives in the Region during F.Y. 2021-22:
Establishment of FPOs for value addition.
Animal husbandry comprising of Sheep & Goat, Fisheries and Dairy sectors have been released assistance under UKCDP (Uttarakhand Cooperative Development Project).
MoU signed between NCDC and GBPUAT Pantnagar.
Promoting activities under PMMSY and other Flagship Schemes of NCDC.
Initiatives for development of Aspirational Districts (Haridwar & Udham Singh Nagar) (identified by NITI Aayog) through Cooperatives:
NCDC is emphasizing on 2 Aspirational Districts of Udham Singh Nagar and Haridwar where cooperative business activities have been covered under NCDC assisted State Mega Project, besides having been directly assisted by NCDC. Preference is accorded to these districts for organising promotional activities including trainings and workshops.
Development Opportunities in the state through cooperatives:
State-wide Integrated Development for identified sectors/ activities through cooperative structure
SAHAKAR-22
PMMSY/AYUSHMAN/ YUVA SAHAKAR/PMFME
Success Stories :
Cooperative Brand 'BAKRAW' Enhancing Livelihood of Sheep Goat Farmers in Uttarakhand Hills
NCDC assisted Rajya Samekit Sahakari Vikas Pariyojana is the largest ever integrated Project in the country at a mega outlay of Rs 3340 Cr and is under implementation throughout the state of Uttarakhand. Hon'ble Prime Minister announced the release of Rs 100 Cr in February 2019 out of which Rs 25 Cr was for sheep and goat rearing project.
Capitalizing on the concept of Cooperative Corporate partnership the mega project aims to promote cooperative branding among others in the meat sector by enhancing the value chain supply of fresh Himalayan meat for creating employment opportunities for rural populace and bringing about economic prosperity through cooperatives.
BAKRAW, the himalayan goat meat is a unique brand developed by Uttarakhand Sheep Goat Rabbit Farmers' Cooperative Federation Limited (USGCF) contributing directly towards farmers' livelihood improvement. Goats reared in the Pahadi regions are tender & juicy and offer consumers to experience meat produced under a world class farm-to-fork modern meat hygiene system. Selected Goats are mechanically dressed in an APEDA-approved, ISO and HACCP Certified, quality and safety assured integrated meat complex. Process integrity is monitored and maintained at all stages from goat rearing to final packaging with complete traceability and assured food safety to deliver hygienic, covid safe, tender and juicy Himalayan Goat meat, the BAKRAW.
Aiming to provide market for sheep/goat products and streamline income flow for the farmers, the initiative under the NCDC Uttarakhand Cooperative Development Project is transforming the unorganized sheep and goat sector into a self sustaining organized cooperative sector replete with front and back ended support/linkages resulting in substantial improvement in the livelihood of the farmers making them 'Atmanirbhar'. Reaching out to over 14000 farmers across 13 districts of Uttarakhand , more than 50% of which are women, presently over 1500 goat rearers in the districts of Rudraprayag, Almora, Bageshwar and Pauri have started getting benefits of the scheme by means of more than 220 Bhed Bakri Samitis.
The State Federation has also launched 'Mutton on Wheels' a mobile unit with chiller, processing and dispatch. The Federation has also introduced specialized livestock carriers to reduce stress and other issues for transported livestock.There are more than 1600 customers in Dehradun itself where a customer can trace from which cluster the meat has been supplied to them. This assures the customers and in turn the demand increases. A website www.himalayangoatmeat.com along with social media pages by the brand 'Bakraw' is in vogue.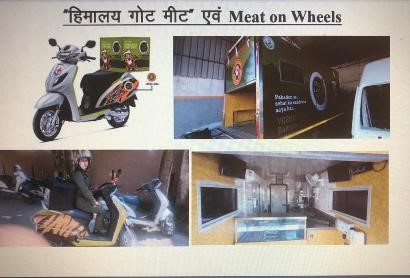 Multipurpose Kisan Seva Sahkari Samiti, Sevla Kala, Raipur, Dehradun Uttarakhand
Recipient of NCDC Regional Award for Cooperative Excellence, the Society is one of the largest Multipurpose Primary Cooperative Societies in Dehradun, with an annual business turnover of more than Rs.20 crore and net profit of Rs.0.42 crore during 2019-20.
Paddy, Wheat, Sugarcane are the main agricultural produce in the area. Distribution of fertilizers, short & medium term loans to farmers, ration distribution to farmers through PDS and accepting deposits under Gramin Bachat Kendra are the main commercial business activities undertaken by the Society.
The society initially registered as a Primary Kisan Seva Sahakari Samiti in 1979; now has been functioning as Multipurpose Cooperative society since 13th April, 2018 and operates through its own building.
It has a total membership of 5343 members including 782 women members and the number of membership is increasing every year. The share capital is Rs.0.23 crore and the deposits are Rs.25.99 crore. In 2018-19 and 2019-20 it has declared dividend of 20% and continues to maintain "Class A" Audit Classification.