Name of Regional Directorate: Dehradun
Jurisdiction: Uttarakhand
Complete Address of Regional Directorate: B-2, Friends Enclave, Shahnagar, Gorakhpur Post Office, Defence Colony, Dehradun-248001.
Name of Regional Director: Smt. Deepa Srivastava
Contact details:Ph: 0135-2665945 Fax: 0135-2665945, E-mail: ro.dehradun

ncdc.in
Google Map link (Route map of Directorate):
https://g.page/NCDCDEHRADUN?share
Cooperatives in Uttarakhand
| S. No. | Category of Societies | Number of Societies |
| --- | --- | --- |
| 1 | State Level Cooperative Organizations (representing Marketing, Dairy Handloom Weavers, Fishermen, Sericulture, Oilseed, Sheep & Goat, Credit and Banking) | 12 |
| 2 | District Central Co-operative Banks | 10 |
| 3 | Primary Credit Cooperative Societies | 759 |
| 4 | Dairy Cooperatives (District Level Federations). | 10 |
| 5 | Dairy Primary Societies | 2677 |
| 6 | Marketing Cooperatives | 34 |
| 7 | Cooperative Sugar Mills | 4 |
| 8 | Textile Cooperative (Resham) | 106 |
| 9 | Service Sector Cooperative(Transportation) | 34 |
| 10 | Other type of societies | 2238 |
| | Total | 5884 |
Implementation of NCDC Programmes in Uttarakhand:
Financial support by NCDC:
Up to 31.03.2020, NCDC has provided total disbursement of Rs.332.401 crore benefitting various cooperative projects/units as follows:
| S. No. | Scheme/Activity | Cumulative Disbursement as on 31-03-2020 (Rs. in crore) |
| --- | --- | --- |
| 1 | Marketing & Inputs | 86.88 |
| 2 | Sugar | 28.38 |
| 3 | Textile | |
| 4 | Processing | 11.40 |
| 5 | Weaker Sections (Dairy, Fisheries, Animal Husbandry etc.) | 86.585 |
| 6 | Consumer | 0.549 |
| 7 | Storage& Cold Storage | 5.598 |
| 8 | Integrated Cooperative Development Project (ICDP) | 87.726 |
| 10 | Service & Agri. Credit | 25.283 |
| | Grand Total | 332.401 |
Sector wise cumulative disbursements & Cumulative disbursement as on 31-03-2020 (Rs in crore)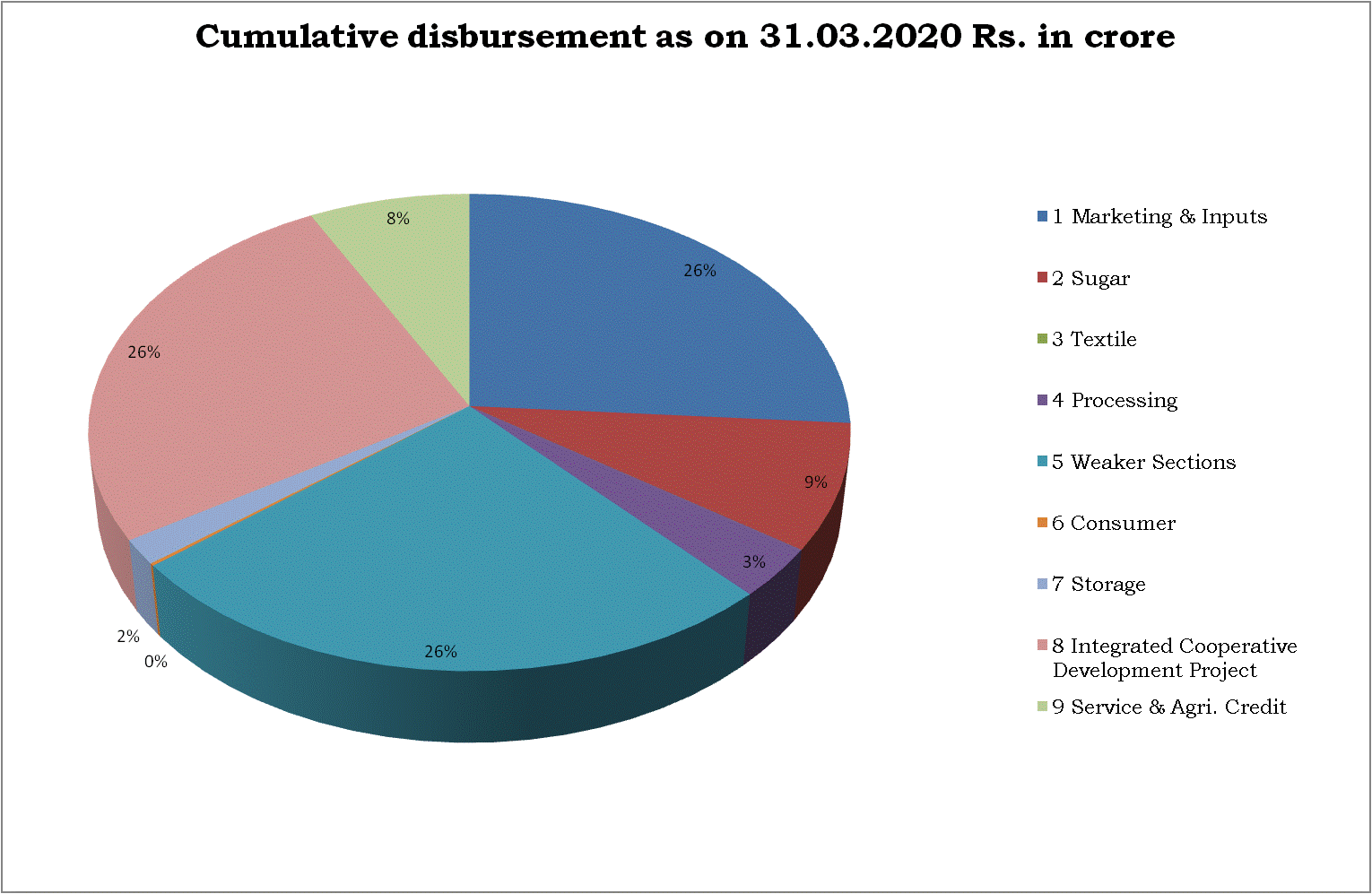 Achievements during last 5 years (Up to 31.03.2020)
Year

Assistance(Rs. in crore)

Sections

Disbursements
Number
Amount
2015-16
0
-
8.20
2016-17
7
9.02
3.23
2017-18
1
2.40
3.32
2018-19
11
3013.76
106.07
2019-20
0
12.34
Highlights of the programmes assisted and other relevant achievements/ issues during the last 5 years (2015-16 to 2019-20):
Promoted Women Cooperatives movement from primary level, central level as well as state level under ICDP.
All the 13 districts have been covered under ICDP.
All 10 District Central Coop. Banks have been provided computerisation/CBS assistance.
Animal husbandry (Sheep & Goat), Fisheries, Dairy sectors has been sanctioned and released under State Mega Project.
PACS have been converted into MPACS (Multipurpose). They are undertaking various innovative activities in the state. Collective Coop. Farming is the major activity which is being initiated through MPACS for the upliftment of the Rural population with the support of NCDC Assistance through State Mega Project of Rs. 3,340.00 crore.
New Initiatives in the Region during Year F.Y. 2020-21:
State is facing the major problem of migration. Almost all the villagers from around 3,000 villages have been migrated. Through cluster formation and collective coop. farming, steps will be taken to rehabilitate the villages in the State Mega Project assisted by NCDC.
Initiatives for development of Aspirational Districts (identified by NITI Aayog) through Cooperatives:
ICDP has been successfully implemented in both the districts. During 2018-19, In DCCB Haridwar has been provided for computerisation. In 2019-20, all the cooperative societies of the Aspirational Districts will be supported through State Mega Project assisted by NCDC.
NCDC Regional Awards for coops for the year 2018-19:
Excellence:- Sewla Kalan Multipurpose Cooperative Society Ltd., Dehradun
PACS
Merit:-Duadhar Multipurpose Primary Agriculture Coop. Society Ltd., Narendra Nagar, Tehri Garhwal
Excellence:- Dugdh Utpadak Sahakari Samiti Ltd., Sanajay Nagar, Lalkuan, Nainital
Special Category ( Dairy)
Merit:-Dugdh Utpadak Sahakari Samiti Ltd., Futkuwan, Devalchor, Nainital
Excellence:-F.S.S. Nanhera Anantpur Ltd., Haridwar
Special Category (Weaker sections SC/ST)
Merit:-Multipurpose Cooperative Agriculture Society Ltd., Syalsi, Jaunpur, Tehri Garhwal.
Excellence:- Mahila Dudgh Utpadak Sahakari Samiti Ltd., Chandni Chowk, Kaladhungi, Nainital
WOMEN COOPERATIVE
Merit:-Mahila Dudgh Utpadak Sahakari Samiti Ltd., Chaorajali, Kaladhungi, Nainital

Development Opportunities in the State through Cooperatives:
Uttarakhand, being the hilly state facing major problem of migration. Land-holding of the farmers is very small and being hilly state, land cannot be irrigated easily. Cost of cultivation is very high and farmers are not in position to use agriculture implements and total dependence on the agriculture does not yield sufficient to support their family. Through State Mega Project multi-pronged approach through Dairy, Fisheries, and Sheep & goat sectors are also being implemented through cooperatives in the state through NCDC funded Mega project, which will create employment opportunities and as well support in reverse migration. This will also improve financial condition of cooperative societies.
Success Stories :
Gouri Women Self Help Group
Gouri kot place/village is a "toak" of Wajali village which is situated 4-5 Ks. away from district headquarters on Pauri-Devprayag Road and by link road it is approximately 15 kms. away from district headquarters in Pauri block.
The inhabitants of Gouri kot were not getting any help from Agricuture/Govt./Allied departments; therefore, in October 2013 they met ARCS, Pauri Garhwal and desperately asked "what kind of help can be extended to the inhabitants of Gouri Kot ?".
GM-ICDP/Assistant Registrar Cooperative Societies, Pauri Garhwal, informed that SHG does not come within the ambit of cooperatives, so extending any sort of support through cooperative department is not possible. SHG required around half kilometer long water pipe to bring water for irrigating their land. Agriculture Department was ready to supply the pipe costing around Rs.35000/- but the SHG was not in the position to arrange such a huge money.
During the discussion it came out that Group is affiliated to the Gramin Bachat Kendra of the society. Hence the ARCS assured to visit the site and take decision thereafter. The site visited by the ARCS impressed him and devotion and dedication of the group members towards work pave the way for receiving support from government authorities.
As such the ARCS, who is also General Manager, ICD Project extended Rs.1 lakh as margin money from the project but the group refused to avail the assistance on the pretext that group requires only Rs.35000/- and extra loan will put additional loan burden on the SHG. The GM informed that the assistance provided is interest free and group can do some extra business.
The members of SHG did hard work and turned the barren fields of 1.4 Hect. Into lush green, which became the news for the area and the leading newspapers of the vicinity as such, Hindustan Times (English) and Dainik Jagran (Hindi) gave space to the work done by the dedicated ladies of the area (Exhibit – 1 and 2). Smt. Laxmi Devi, President of the SHG and Smt. Rekhe Devi (Treasurer) are motivating the people not to migrate anywhere as very much potential available in their own area.
The assistance provided by ICDP funded by NCDC helped SHG in purchase of pipe for arranging water to irrigate the land. The SHG started activity from 10 Nali land after purchasing some necessary agriculture implements. The SHG grew and sold following crops and their self consumption. SHG has also constructed huts for protection and storage of produce.
ICDP Namakkal: 1296 Valayapatty Primary Agricultural Co-operative Credit Society, Namakkal District availed the financial assistance of Rs.20.00 lakh for various sub projects like New Office Building, Modern Banking Counter, Air Conditioner, Furniture, Polly Pallets under ICDP in 2016-17. Profit made by the society is:- Rs. 13.80 lakh (2016-17), Rs.17.45 lakh (2017-18) & Rs. 21.60 lakh (2018-19).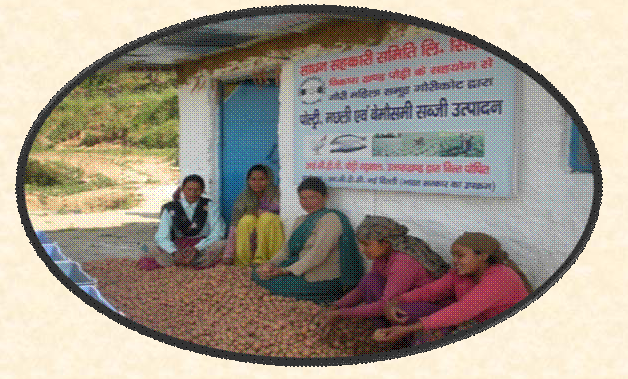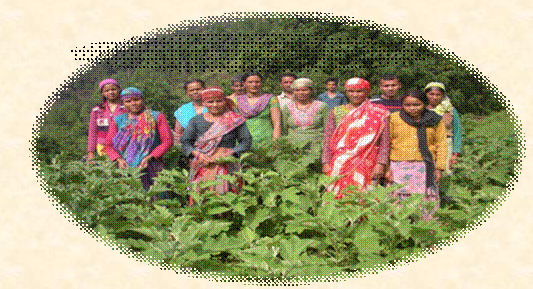 Broiler Farming Activity :-
GM, ICD Project, District Pauri Garhwal decided to give demo of broiler farming to SHG after their consent for expansion of activities to allied sector. For this purpose an old and useless cowshed was prepared, wherein 200 chicks was placed that reared successfully
After this success, ICD Project extended loan to SHG members for poultry shed construction and broiler farming. The SHG is doing the work of poultry farming successfully.
SHG generated revenue from July 2014 to the end of the year to the tune of Rs.216000/- from different activities such OSV, floriculture, poultry and fishery and SHG has projected target to generate income to the tune of Rs.674500/- in the year 2015.