Name of Regional Directorate: Shimla
Jurisdiction: Himachal Pradesh
Address of Regional Directorate: GARGEY NIWAS, NEAR GOVT HIGH SCHOOL LOWER KAITHU, SHIMLA
Name of Regional Director: Shri Rakesh Verma
Contact details:Ph: 0177-2657689; Fax: 0177-2658735, E-mail: ro.shimla

ncdc.in,
Google Map link (Route map of Directorate):
https://goo.gl/maps/KAr8M7v6JyfEEZDw9

Cooperatives in Himachal Pradesh
S. No.
Category of Societies
Number
A
Credit Cooperative Societies
i
Apex – Bank
1
The H.P. State Co-operative Bank Ltd
ii
Apex - ARD Bank
1
The HP State Co-Operative Agriculture & Rural Development Bank
iii
Secondary Cooperative Society - DCCBs
2
Jogindra Central Cooperative Bank Ltd.
The Kangra Central Co-operative Bank Ltd.
iv
Primary Cooperative Societies
1
Kangra Primary Cooperative Agricultural and Rural Development Bank
Urban Cooperative Banks
2
The Shimla Urban Cooperative Bank Ltd.
The Parwanoo Urban Co-Operative Bank Ltd.
The Baghat Urban Co-Operative Bank Ltd
Mandi Urban Cooperative Bank Ltd.
Chamba Urban Co-operative Bank Ltd.
Primary Agriculture Cooperative Societies (PACS)
2119
v
Thrift & Credit Cooperative Societies
438
B
Non Credit Cooperative Societies
2323
Grand Total
4890
Implementation of NCDC Programmes:
Financial support by NCDC:
Up to 31.03.2020, NCDC has provided total disbursement of Rs. 905.071 crore benefitting various cooperative projects/units as follows :
| S. No. | Scheme/Activity | Cumulative Disbursement as on 31-03-2020 (Rs. in crore) |
| --- | --- | --- |
| 1 | Marketing & Inputs | 211.81 |
| 2 | Processing | 3.32 |
| 3 | Weaker Sections | 13.79 |
| 4 | Consumer | 22.17 |
| 5 | Storage | 19.79 |
| 6 | Integrated Cooperative Development Project (ICDP) | 266.54 |
| 7 | MIS | 63.606 |
| 8 | Service & Agri. Credit | 300.38 |
| 9 | F&V | 1.86 |
| | Grand Total | 905.07 |
Sector wise cumulative disbursements & Cumulative disbursement as on 31-03-2020 (Rs in crore)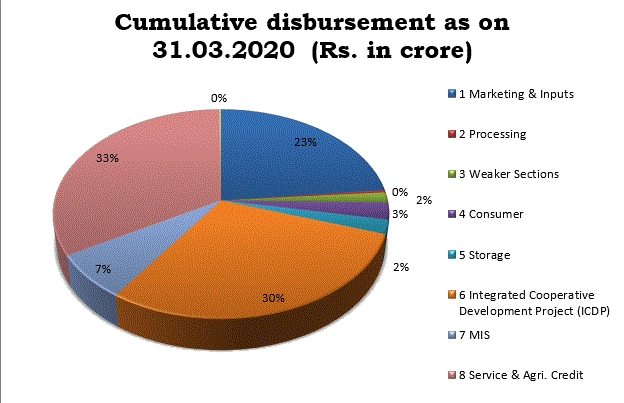 Achievements during last 5 years (Up to 31.03.2020)
Year

Assistance(Rs. in crore)

Disbursements
Number
Amount
2015-16
12
12.76
54.75
2016-17
28
32.54
57.87
2017-18
16
79.36
32.36
2018-19
17
92.60
45.19
2019-20
8
36.61
59.69
Highlights of the programmes assisted and other relevant achievements/ issues during the last 5 years (2015-16 to 2019-20):
Promoted Cooperative movement in the State at all levels i.e. from Primary to Apex Federation.
Toughest areas of HP like Kinnaur and Lahaul & Spiti are also penetrated to explore the opportunity for the development of PACs.
Successfully encouraged Cooperatives in availing of assistance under direct funding schemes of NCDC. Total Sanctions during last five year are 82 units of Amounting Rs 22.11 crore under direct funding.
In last 5 years PACs have been assisted for construction and upgradation of Godowns/Cold storage/Showrooms in the HP region.
2nd Phase of ICDP Started in five Districts – Kullu, Kangra, Shimla, Solan & Mandi. Out of 5, three ICDPs are about to complete and rest two i.e. ICDP Solan and Mandi are newly sanctioned projects.
Two ICDP projects are under consideration for 2nd Phase i.e. Una & Chamba (Aspirational District). DPR is awaited from the State Government.
RKVY program was organized effectively in HP region.
4 awards have been received for excellent work in Hindi language from the Chairman, NARAKAS (Department of Official Language Ministry of Home Affairs, Govt. of India).
Under SAHAKAR-22, target was overachieved for PACs visit in FY 2019-20.
New Initiatives in the Region during Year F.Y. 2020-21:
Establishment of Agro Processing Units for value addition.
Promoting activities under Yuva Sahakar-Cooperative Enterprise.
Support & Innovation Scheme and PACS as Modern Banking Units.
Initiatives for development of Aspirational Districts(identified by NITI Aayog) through Cooperatives:
Frequent visits have been made to the interiors of the Chamba District to understand the need of the cooperatives and to convince them for diversification from their existing business. PACs have shown their interest in availing assistance under direct funding scheme. Thrust is given to the early start of 2nd phase of ICDP in the Aspirational District (Chamba).
Development Opportunities in the State through Cooperatives:
2nd Phase of ICDP in remaining 2 Districts
State-wide Integrated Development for indentified sectors/ activities through Cooperative structure
SAHAKAR-22
YUVA SAHAKAR
Insurance Sector
Women empowerment through Cooperatives (Handicraft, Handloom items etc.)
Student Cooperatives in new/ innovative/ potential areas for self-employment generation
Computerization of Federations / PACSs
Consumer Sector
Fruits and Vegetables
Primary Processing Infrastructure (Mobile) units
Cold-chain infrastructure
Strengthening of Cooperative of high Altitude Area – Milk, Bee-keeping, Wool, Dry fruits, Livestock, Exotic, Herbs & medicinal plants etc.
High Quality Seed
Dairy Sector
Fisheries (Via DAMs/ Reservoirs/ Rivers etc.)
Micro Hydel Sector
Success Stories:
The Bhutti Weavers Handloom Cooperative Society
Support from NCDC under CSISAC: NCDC has sanctioned and released Rs.1.57 crore and Rs.1.49 crore respectively towards construction of working shed and finishing unit, showrooms, central godown, computerization and for margin money.
NCDC sponsored Scheme: Has availed working capital assistance of Rs.1 crore in 2017-18 under Direct Funding Scheme and the Society has been making regular repayments.
Nationally and Internationally known Handloom Cooperative Society located at Kullu. It has won many Awards:-
A National Award Gold in 1993(Ministry of Textiles)
Udyog Ratna Award in 2005 (PHD Chamber of Commerce and Industry)
Cooperative Excellency Award in 2009 (NCDC)
The Yeoman Service and Leadership Textile Industry NISTII-IIT, 2009.
The society also holds an ISO 9001: 2015 certificate for quality practices conforming to international standards and markets its products via thirty five outlets under its own trademark, exhibitions and exports to countries such as: Belgium, France, Great Britain, Russia, Japan, China, Spain and the USA.
Himachal Pradesh State Cooperative Bank Ltd., The Mall, Shimla
The H.P. State Co-operative Bank Ltd. was registered in 1953 and started functioning as an Apex Bank as well as Central Financing Agency under 2-tier system in 6 districts of the State. Now it has a network of 190 branches and Extension Counters. It is a National Award Winner bank, which has been conferred for achieving overall excellence in banking operations. It is the first Co-operative Bank of India to implement Total Branch Automation software in all its branches with the financial support of NCDC under CBS computerization projects etc.
The Kuthera Cooperative Agri. Service Society Ltd, P.O. Kuthera, Teh. & District Hamirpur
It is a Multi-purpose Society that supplies agricultural inputs to farmers and also provides short and medium term credit for agriculture production. It supplies consumer goods (PDS items along with non-controlled items and electrical/ electronic goods). It has won Subhash Yadav Award for the Best Performing PACS in the country for the year 2010-11.