Name of Regional Directorate: Ranchi
Jurisdiction: Jharkhand
Address of Regional Directorate: M-23/DS, Harmu Housing Colony, Near BJP Office,Harmu, Ranchi, Jharkhand, Pin- 834002
Name of Regional Director: Shri Siddharth Kumar Nim
Contact details:Tel-0651-2972194; Fax-0651-2241494 E-mail: ro.ranchi ncdc.in,
Cooperatives in Jharkhand:
| S. No. | Category of Societies | Number |
| --- | --- | --- |
| 1 | State Level Cooperative Organizations (representing Marketing, Dairy Handloom Weavers, Fishermen, Sericulture, Oilseed, Sheep & Goat, Credit and Banking)/ Regional Federation | 11 |
| 2 | District Central Cooperative Banks | 1 |
| 3 | Primary Credit Cooperative Societies/ LAMPS | 4394 |
| 4 | Other type of societies | 4497 |
| | Total | 8903 |
Implementation of NCDC Programmes:
Financial support by NCDC:
Up to 31.03.2021, NCDC has provided total disbursement of Rs.157.953 crore benefitting various cooperative projects/units as follows:
S. No.
Scheme/Activity
Cumulative Disbursement as on
31.03.2021 (Rs. in crore)
1
Marketing & Inputs
4.000
2
Weaker Sections
14.345
3
Cold Storage
1.000
4
ICDP
137.812
5
Promotional Schemes
0.572
6
Storage
0.224
Total
157.953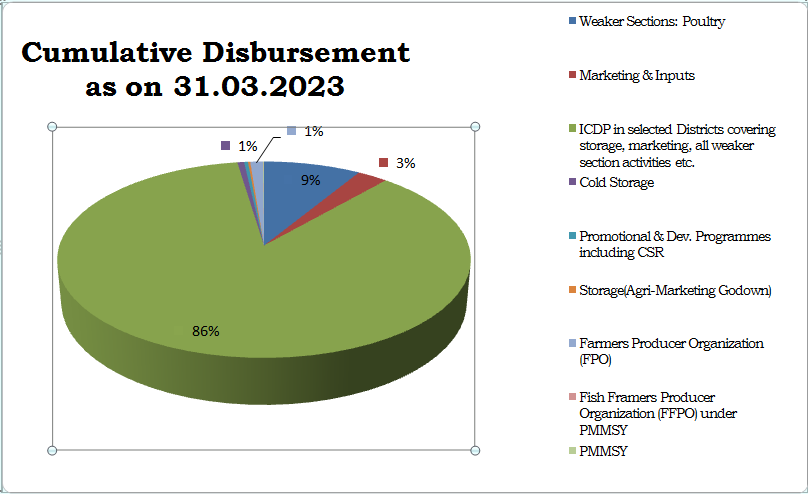 Achievements during last 5 years (Up to 31.03.2021):
Year
Assistance
Disbursements
(Rs. in crore)
Number
Amount
2016-17
1
0.210
8.620
2017-18
1
0.284
1.623
2018-19
1
34.269
0.828
2019-20
8.249
2020-21
4.295
0.924
Highlights of the programmes assisted and other relevant achievements:
Weaker Section Programmes: Rs.14.345 crore disbursed for poultry projects by Jharkhand Women's Self Supporting Poultry Cooperative Federation Ltd., Ranchi. Financial assistance has been provided for setting up of hatchery, feed mill, retail shops, construction and expansion of poultry sheds, Margin Money, Training & Extension etc. More than 4000 tribal/weaker section women producer members have been benefitted.
Marketing & Inputs: Margin money assistance of Rs.4.00 crore disbursed towards procurement and marketing of lac by JASCOLAMPF, helping lac farmers.
Integrated Cooperative Development Project (ICDP): ICDP, the flagship programme of NCDC has been implemented in 20 Districts of the State, and is under implementation in Bokaro District. So far, NCDC has disbursed Rs.137.112 crore to the Govt. of Jharkhand for all round development of these districts through cooperatives under ICDP.
Cold Storage: Rs.1.00 cr. disbursed to VEGFED for setting up of cold storage unit.
Promotional & Developmental Programmes: Rs.0.57crore disbursed to JASCOLAMPF for setting up of T&P Cell & for Ujjawala K.S.S.S.S. Ltd under CSR scheme.
Storage (Agricultural Marketing Godown): Rs. 0.224 crore disbursed to Gramin Bachat Awm Sakh Swawlambi Sahkari Samiti Ltd. Dumka under AMI Sub Scheme of ISAM for construction of agri-marketing infrastructure.
New Initiatives in the Region during Year F.Y. 2020-21:
Implementation of the Central Sector Scheme of formation and promotion of 10000 new FPOs. During the year 20 Blocks have been identified to implement the scheme in.
Creation of infrastructure facilities like storage, agri. Marketing through State Govt. /Direct Funding.
Identifying suitable projects through cooperative societies and federation working in the fisheries sector in the state under the Prime Minister Matsya Sampada Yojana (PMMSY) and promoting them to get benefits under the scheme.
Identifying suitable projects through cooperative societies working in the food processing sector in the state under the Pradhan Mantri Formalisation of Micro Food Processing Enterprises (PMFME) and promoting them to get benefits under the scheme.
Advising/ Helping qualified cooperatives to make suitable project proposal under NCDC's Yuva Sahakar Scheme.
Under the Sahakar Pragya scheme, trainings conducted by organizing specially designed training programs on various important subjects for work efficiency and knowledge enhancement of the members associated with the various cooperative societies of the state through the LINAC Regional Training Center.
Initiatives for development of Aspirational Districts(identified by NITI Aayog) through Cooperatives:
24 districts in the state have been identified by NITI Aayog as Aspirational Districts in the State. Out of these 24 districts in the State, 19 districts viz. (1) Ranchi (2) Lohardaga (3) Gumla (4) Simdega (5) Palamu (6) Latehar (7) Garhwa (8) West Singhbhum (9) East Singhbhum (10) Dumka (11) Hazaribag (12) Chatra (13) Giridih (14) Bokaro (15) Ramgarh (16) Khunti (17) Sahebganj (18) Pakur (19) Godda have been benefitted either throughICDP or Poultry project implementation in the state. Preparation of DPR for implementation of ICDP in 3 more aspirational districts is under consideration of State Government.
Development Opportunities in the State Cooperatives:
Formation and Promotion of new FPOs & FFPOs.
Development of Fisheries Sector under PMMSY scheme.
Strengthening/Setting up/ modernisation of food processing units under PMFME scheme.
Implementation of projects of Farm Mechanisation, Godown-cum-marketing centre, Cold Rooms and Model PACS programme in various districts of Jharkhand.
Implementation of ICDP Phase-2, in selected districts of State.
Converting PACS into Modern Banking Unit.
Creating additional storage capacity by Cooperatives in rural areas.
Development of weaker section programmes like Dairy, poultry, fishery etc. under CSISAC Scheme.
Bee keeping programmes under National Bee Keeping and Honey Mission(NBHM).
Cooperative training programmes under Sahakar Pragya:
Some of the major highlights of successfully conducted online training programs through the LINAC Regional Training Center of NCDC, the programs were specially designed on various subjects for the members working at different levels and associated with various cooperative societies of the state: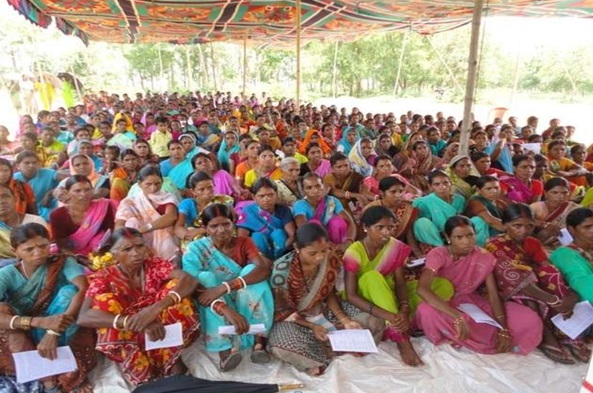 Module-I: On 27th and 28th January, 2021, a two-day online training program was organized on the subject of 'General Management for primary level cooperatives'.
Module-II: On 25th and 26th February, 2021, a two-day online training program was organized on the subject of 'Business Development & Asset Management for primary level cooperatives'.
Module-III: On 25th and 26th February, 2021, a two-day online training program was organized on the subject of 'Accounting and book-keeping for primary level cooperatives'.
Success Stories:
Jharkhand Women's Self-Supporting Poultry Co-operative Federation Ltd., Ranchi (JWSPCFL):
The JWSPCFL, Ranchi is the largest commercial production house of poultry in eastern India. Registered under Jharkhand Self-supporting Co-operative Society Act 1996 on 31st March, 2005, JWSPCFL has come a long way while delivering its objective of providing a sustainable livelihood.
In the year 2002, the activity was initiated bythe members of women self-help group of Lohardaga district of Jharkhand, with the support of PRADAN, a national level NGO. Initially, only 60 members showed their interest and formed a co-operative society by registering under Jharkhand Self-supporting co-operative act. Subsequently, in a short span of time, four more cooperatives were established in the disctricts of Gumla, Lohardaga, East Singhbhum and Ranchi (presently Khunti). The cooperative societies further organized into a state level federation which has been registered under the same act. It is now a strong institution of 5072 rural marginalized women from 09 cooperatives across Jharkhand who are able to realize their potential as an entrepreneur. The sales turnover of JWSPCFL has grown nearly ten folds from Rs.9.93 crore in FY 2006-07 to Rs.110.96 crore in FY 2018-19.
The members of cooperative societies are women who belong to financially and socially marginalized and weaker section of the society i.e. STs, SCs & OBCs, with more than 80% belonging to Tribal population. Today, with a minimum requirement of one cent of land (500 sq. feet) either self owned or on lease a member earns between Rs.40,000 to Rs.50,000 a year which works out to Rs.200-250 a day for 200 days of engagement. This income is available to them in regular stream of cash flows on a continuous basis, helps to meet the need of cash expenses and also in capital formation for the family. This income strengthens the women to negotiate a better deal for herselfwithin the family and in larger society.
The society has been assisted by NCDC under weaker section programme with a financial assistance of Rs.14.345 crore to the Federation for poultry development including hatchery, feedmill, poultry sheds, margin money etc.
The exceptional work done by the JWSPCFL for upliftment and better livelihood of the rural women in Jharkhand, has been acknowledged by various organizations at All India/ State level and the Federation and its member cooperatives have been bestowed with numerous awards. These include Outlook Agriculture Conclave and Swaraj Awards, 2018 for the Federation, NCDC Regional award for Cooperative Excellence and Merit Award, 2018 for its various member cooperatives.

Ashalata Vikalang Vikas Sahayog Samiti:
Ashalata Vikalang Sahayog Samiti, Bokaro is a very good example of will power of its differently abled members, not only to overcome their limitations but also improving the socio-economic status of its members with the support by State Govt./ NCDC.
The society was started with a milk booth, selling milk and other dairy products of "Sudha". The society started its business with a capital of Rs.50000/- only, after receiving financial assistance under the NCDC's flagship scheme, ICDP being implemented in Bokaro from 2014, the business operations of the society saw a drastic improvement. The business turnover of the society increased to Rs.33.053 lakh in 2018.
As on 31.03.2018, the society had 52 members. Presently the society is having one cyber café, one consumer store and own office. The consumer store is equipped with CCTV, bar code reader, billing machine & POS machine like facility. With these activities, the society has been able to give regular employment to 12 members with the salary of Rs. 3000.00 per month and employment to 15-20 members.
Thus, the story of the Ashalata Vikalang Sahayog Samiti is a very good example of will power of its differently abled members who are employed by this society which is working through NCDC assistance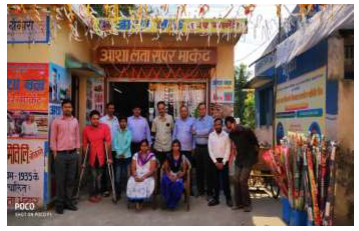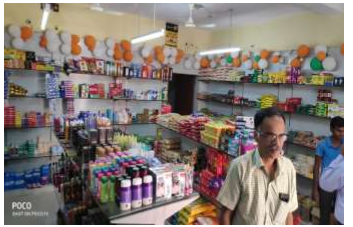 Ashalata super market
Some Glimpses of other Activities in Jharkhand:


Date 06.03.2021: Programme organized by Cooperation Department, Govt of Jharkhand to give Award to best working cooperatives in different districts of Jharkhand. The Chief Guest of programme was Hon'ble Minister of Agri, AH & Cooperation, Govt. of Jharkhand Shri Badal Patralekh.


From Left to Right: DGM, NABARD, RCS Jharkhand, Secretary Agri, AH & Coop. & NCDC Regional Director.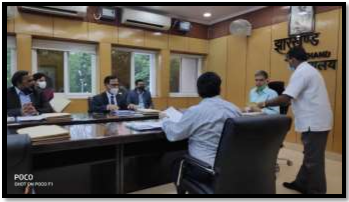 Date 29.09.2020: 1st round of meeting on Agricultural Infrastructure Fund under the chairmanship of Chief Secretary, Govt. of Jharkhand Shri Sukhdeo Singh.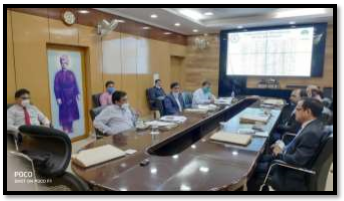 1st round of meeting on Agricultural Infrastructure Fund attended by NCDC RD Ranchi along with Secy. Cooperation GoJ, Director Agriculture, GoJ, CGM, NABARD and other host of dignitaries.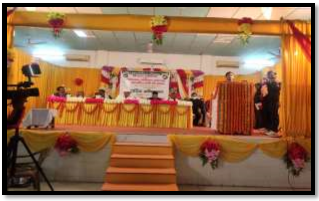 Date 30.12.2020: RD, NCDC Ranchi giving speech on various NCDC schemes during the closing ceremony of ICDP-Bokaro.